Oceanside Motorcycle Accident Attorney
Motorcycles are popular in Oceanside and throughout California, and while most riders are able to enjoy their time on their bikes without issue, motorcycle accidents can and do happen regularly. All riders must acknowledge the risks they face on the road and the inherent dangers that motorcycles present. While the driver of an enclosed vehicle can rely on the vehicle's safety features to provide some protection in an accident, motorcycles offer almost no physical protection from crash impact forces. Motorcyclists are also more vulnerable to all of the risk factors facing all other drivers.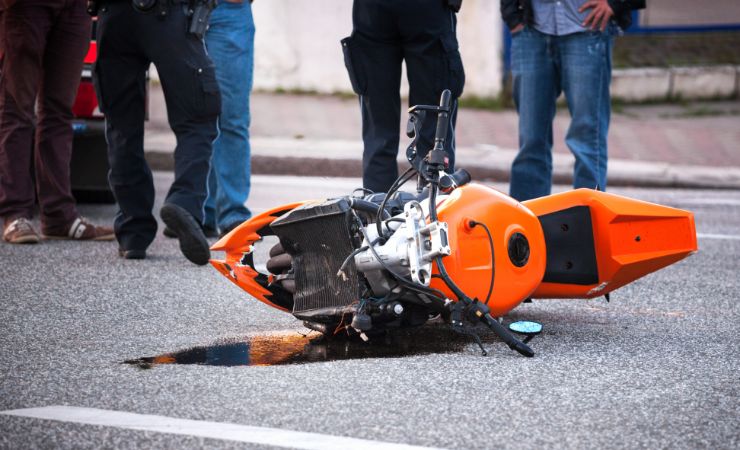 Experienced Legal Counsel for Oceanside Motorcycle Accident Victims
If you or a family member is recovering from injuries suffered in a motorcycle accident, the economic impact of the event and the pain and suffering of your injuries can quickly create a very difficult situation. It's understandable to feel distraught and uncertain when it comes to recovering your losses, but the right Oceanside motorcycle accident attorney is the ideal asset in this situation. Perry Personal Injury Lawyers can provide compassionate legal guidance as you determine your best path to recovery, and we have the experience necessary to address all the unique variables of your case with responsive and decisive action.
Why Hire an Oceanside Motorcycle Accident Attorney?
The right attorney can make a tremendous positive impact on the outcome of all the recovery efforts you attempt after a motorcycle crash caused by another driver. Your recovery is likely to require an auto insurance claim against the at-fault driver, but if insurance alone cannot fully compensate your losses or the at-fault driver does not have appropriate insurance coverage, a personal injury claim will be your best option for recovering your damages. It's technically possible for you to attempt these recovery efforts without legal counsel, and there is no law requiring you to hire an attorney, but the reality is that you stand a much better chance of recovering as much as state law allows with a reliable Oceanside motorcycle accident attorney handling your case.
When you choose Perry Personal Injury Lawyers to represent you after a motorcycle accident, you can rely on us to help you secure maximum compensation from your insurance claim. We have dealt with all of the major insurance carriers operating in the state, and we know the tactics they often use to avoid paying out on claims. Some insurance company representatives will even engage in unethical bad faith tactics, relying on the desperation of claimants to compel them into accepting unsuitable claim settlement offers.
Hiring the right legal counsel not only significantly improves your chances of securing a swift and acceptable settlement offer from the party responsible for your accident but also provides reassurance if you need to file a personal injury claim as well. The right legal team can help their client gather the evidence needed to prove liability, solidify their claim for damages, and resolve any disputes regarding fault for the accident in question.
Causes of Motorcycle Accidents and Proving Liability
The state enforces a fault rule for resolving vehicle accident claims. This means whichever party caused an accident is liable for all the resulting damages. Before you can file an auto insurance claim against the at-fault driver or proceed with a personal injury action against them, you must prove they directly caused your damages. A few commonly reported causes of motorcycle crashes in the Oceanside area that lead to extensive legal proceedings include:
Driving while distracted, the leading cause of all vehicle accidents in the country each year. A few seconds of distracted driving is enough to cause a catastrophic motorcycle accident.
Drunk driving, which is illegal and likely to result in severe injuries for victims and harsh penalties for convicted DUI drivers.
Moving violations, speeding, and aggressive driving. All drivers have a duty of care to operate their vehicles safely and responsibly.
Vehicle defects or defective parts, which can implicate the manufacturer as liable for the victim's damages under the state's product liability statutes.
Speeding, the most commonly cited contributing factor for fatal motorcycle accidents throughout the Oceanside area year after year.
Once you determine how your accident happened and who caused it, an Oceanside motorcycle accident attorney will be a vital asset for holding them accountable. Whether you are pursuing legal action on your own behalf or on behalf of an incapacitated family member, the team at Perry Personal Injury Lawyers will assist you in determining the best options for resolving your case and maximizing your recovery as quickly as possible.
How Your Attorney Can Help With an Oceanside Auto Insurance Claim
Every driver, including all motorcycle riders, must have auto insurance that meets the minimum coverage requirements set forth by state law. At a minimum, an auto insurance policy must provide:
$15,000 or more in bodily injury liability coverage for a single person.
$30,000 or more in bodily injury liability coverage for all persons in a single accident.
$5,000 or more in property damage liability coverage.
While the state does not require drivers to purchase underinsured/uninsured motorist coverage, this additional coverage option is invaluable when an at-fault driver does not have appropriate insurance coverage to resolve an auto accident. Unfortunately, the state has one of the highest rates of uninsured drivers in the country, and purchasing this optional coverage can be a valuable source of initial compensation immediately after an accident, effectively allowing the injured driver to file a claim against their own auto insurance policy without penalty.
Even under seemingly ideal circumstances, dealing with insurance companies can be very stressful. They will typically look for any and all reasons they can find to reduce claim payouts or outright deny claims, hoping desperate claimants simply take the first offer without contest. However, if an injured claimant has an experienced Oceanside motorcycle accident attorney helping with their claim, the insurance company representative will be less likely to attempt any such tactics after recognizing the claimant has legal counsel.
Your Oceanside motorcycle accident attorney can help you maximize your claim payout from the at-fault driver's insurance carrier, resolve any disputes that could arise during the claim determination phase, and help you assess whether you have grounds for further legal recourse with a personal injury claim against the at-fault driver.
Claimable Damages Motorcycle Accident Personal Injury Claims
Auto insurance can potentially cover some of your initial damages after a motorcycle accident, such as your vehicle repair bill and your medical expenses, but only to an extent. Even a robust insurance policy may not fully cover an injured rider's damages from a motorcycle accident, especially when the victim has suffered life-changing injuries.
Motorcycles do not have the same safety features as most modern passenger vehicles, such as seatbelts, airbags, and crash-absorbing vehicle frames. Additionally, most motorcyclists hit by other drivers are thrown from their bikes, suffering injuries from the initial crash impact and the secondary impact of hitting the ground. Many motorcycle accidents result in traumatic brain injuries, spinal cord damage, and other life-altering injuries that may entail permanent medical complications and diminished quality of life for victims.
California law allows the victim of any personal injury to seek full compensation for all the economic losses they suffered and appropriate compensation for their pain and suffering. When it comes to personal injury damages, state law allows the victim to seek repayment of any and all medical expenses they face from the accident. This includes immediate health care costs as well as any costs associated with required ongoing care until they reach maximum medical improvement. Similarly, the plaintiff can also seek compensation for lost wages after their accident and potential earnings lost if they are left unable to return to work.
Beyond property damage, lost income, and medical expenses, plaintiffs also have the right to seek pain and suffering compensation in proportion to the severity of their injuries and the scope of the long-term or permanent issues they face after the accident. There is no limit on pain and suffering compensation in motorcycle accident claims, so you have the right to claim as much as you deem appropriate to reflect the severity of your condition after the accident. An experienced Oceanside motorcycle accident attorney is likely to calculate pain and suffering by multiplying their client's total economic losses by a factor representative of the severity of the incident. When the client is expected to make a relatively swift full recovery, their attorney may seek per diem compensation instead, which awards a set amount every day until they reach maximum recovery.
Find Your Oceanside Motorcycle Accident Attorney Today
Perry Personal Injury Lawyers has the tools and experience necessary to handle the most challenging personal injury claims in Oceanside. We know you likely have lots of important questions about what you can expect in your impending lawsuit, how much compensation you could potentially secure from the defendant who injured you, and what to expect in the civil claim proceedings you face. Regardless of how your accident happened or who caused it, you can rely on us to guide you to the best possible resolution to your case. Contact Perry Personal Injury Lawyers today and schedule a consultation with our firm.