Oceanside Personal Injury Attorney
Every day, people across California suffer injuries from all types of causes. The term "personal injury" applies to any situation in which one party harms another through intentional misconduct or negligence, a failure to use reasonable care. If you believe that your recent injury was the result of another party's negligence or misconduct, you can seek accountability and compensation for the losses they inflicted.
Compassionate Legal Counsel for Personal Injury Claims in Oceanside, CA
Perry Personal Injury Lawyers is a team of experienced attorneys who routinely represent clients in all types of personal injury cases. If you or a loved one is struggling with the results of another party's actions in the Oceanside area, contact our firm. We can help you hold them accountable and recover recompense for the damage they inflicted. Protect yourself and your financial future by letting us assist you. The sooner you reach out to our team for help, the sooner we can start guiding you toward the compensation you rightfully deserve.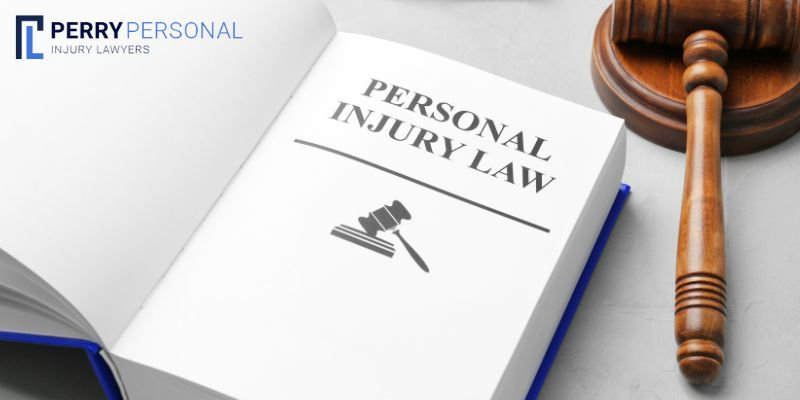 Personal Injury Claims We Handle in Oceanside
Experience is an important factor to consider when hiring a personal injury attorney. You must find an attorney with many years of professional experience practicing law, including experience specific to cases like yours. At Perry Personal Injury Lawyers, we can provide the comprehensive and compassionate legal counsel you need for all claims for personal injury, including:
Car accident claims. These are some of the most common personal injuries reported throughout the state. Recovery from an accident typically starts with a claim against the driver at fault's insurance company, then a personal injury suit when insurance cannot compensate you sufficiently for your damages. We have experience confronting all the major auto insurance carriers on behalf of our clients and can construct a compelling personal injury suit if necessary to ensure your full recovery.
Truck accident claims. Truck accidents tend to generate worse damages and more complex legal issues than standard passenger vehicle accidents. If you were hurt in an accident involving a commercial truck, multiple parties may bear liability for your damages, and we can help resolve the legal issues associated with your claim.
Motorcycle accident claims. Motorcycle accidents are less common than other types of vehicle accidents, but they have a greater chance of causing catastrophic injuries or those that are fatal for those involved. We can help prove fault for a motorcycle accident and hold the other driver accountable for all the damages they caused.
Rideshare accident claims. If you were hurt while riding in an Uber, Lyft, or other rideshare driver's vehicle, you have just as much of a right to claim compensation as you would after any other vehicle accident. However, these accidents often involve insurance claims against rideshare company insurance policies and can be more difficult to resolve than standard vehicle accident claims.
Catastrophic injury claims. Some personal injury victims fully recover from their adverse experiences, but others are not so fortunate. A personal injury is catastrophic when it personally harms the victim. This could mean a traumatic brain injury resulting in lifelong disability, a spinal cord injury resulting in paralysis, or any other severe physical injury that causes long-term or permanent difficulties for the victim. Our team excels at handling difficult personal injury claims and maximizing clients' compensation, especially when they have suffered extreme harm from the negligent or illegal actions of others.
Medical malpractice. Thousands of people in Oceanside and surrounding communities trust all types of medical professionals to treat their illnesses and injuries, and most fulfill their professional duties of care to their patients. However, when a medical professional's negligence results in harm to a patient, this can become the basis of any medical malpractice claim. While similar to a standard personal injury claim in some respects, there are special rules for medical malpractice cases you must understand if you want to succeed with your claim.
No matter how your personal injury occurred, the first thing you need to do to recover compensation for any losses is to prove the exact cause of your injury. You must prove the identity of the party responsible for injuring you and prove that their actions alone caused your damages.
Proving fault for a personal injury requires evidence showing the defendant owed a duty of care in the situation, failed to uphold that duty of care, and consequently caused your claimed damages. Once you have met this threshold of proof, you can proceed with claiming compensation for the losses they inflicted.
Claimable Economic Damages in Your Oceanside Personal Injury Case
Almost every personal injury case filed pertains to two forms of damages: economic and non-economic. Economic damages include all direct financial effects of a personal injury, such as:
Property losses. If the defendant damaged or destroyed any of your personal property, such as your home, your vehicle, or other personal belongings, you have the right to hold them accountable for all associated repair or replacement costs.
Medical expenses. Most personal injury cases pertain to physical injuries. If you were physically harmed by the defendant's actions in your case, you could hold them responsible for all medical treatment you need to fully recover. This includes healthcare expenses like your hospital bills and any long-term treatment costs for severe injuries that need ongoing care.
Lost income. If you cannot work because of the injury you suffered, the defendant who caused the injury is responsible for any income you cannot earn during your recovery. Your Oceanside personal injury lawyer can help calculate how much income you lost and the value of any paid time off you had to use after your injury.
Lost earning power. Unfortunately, some personal injury victims are left unable to return to their jobs due to the severity of their injuries. If you have been left permanently disabled by your personal injury and you cannot go back to work, or if you are unable to earn as much income as you did prior to your injury, you have the right to seek recompense from the defendant for the money you will no longer be able to earn.
While the average person can likely assess immediately recognizable economic damages like vehicle repair costs and hospital bills, they may need assistance to accurately calculate the full long-term financial impact of their personal injury. When an experienced personal injury attorney is representing you, they can help you thoroughly explore the full range of the economic damages you can claim from the defendant in your case.
Pain and Suffering and Punitive Damages
Along with your economic damages, you also have the right to seek recompense for any non-economic damages that the defendant inflicted, namely your pain and suffering. The average plaintiff is likely to find it difficult to determine an appropriate figure for intangible losses like these, and nothing limits how much pain and suffering a plaintiff can claim in most personal injury cases. Your personal injury attorney can assist you in determining a figure that reasonably reflects the scope and seriousness of your experience.
Pain and suffering damages can be calculated based on the overall impact of a personal injury or the time it will take the victim to fully recover. If your recovery from your personal injury is expected to be complete, your attorney may seek a per diem settlement based on how many days you take to reach maximum medical improvement from your injury. If the defendant permanently harmed you, your attorney is more likely to aim for a large lump sum, calculated by using the multiplier method. This entails adding up all your economic damages and then multiplying this amount by a factor to represent the seriousness of your condition, usually one to five.
The Purpose of Punitive Damages
Punitive damages are not awarded to compensate the victim but to punish the defendant. These are likely to come into play when a defendant's behavior falls outside the definition of standard negligence or if they caused the personal injury through any illegal misconduct. Typically, the amount the defendant pays in punitive damages depends on their overall financial status, which means a wealthy defendant will pay much more than one with limited assets.
If a defendant caused a personal injury through willful illegal misconduct, the state is likely to file criminal charges against them. The defendant will face prosecution from the state along with the civil suit filed by the victim, and it is possible for the outcome of the criminal case to influence the victim's recovery efforts. For example, the judge handling the defendant's sentencing in criminal court could include victim restitution as an element of their punishment. Your personal injury attorney can explain how the illegal nature of the defendant's acts may influence your final award.
Comparative Fault in Personal Injury Claims
Personal injuries can happen in many ways, sometimes due to the actions of multiple parties. If you suspect that you bear partial responsibility for causing your recent personal injury, it is natural to worry about whether this will impact your recovery. The short answer is yes; bearing partial fault for your personal injury in Oceanside will diminish your final award. However, it will not prevent you from claiming compensation.
Under the state's pure comparative negligence statute, a plaintiff who bears partial fault for the damages they claim will lose a portion of their total case award to reflect this shared liability. The presiding judge in the case determines the appropriate fault percentage for each liable party after reviewing the evidence and facts of the case. If the plaintiff receives a fault percentage, this percentage is taken from their case award. For example, if the judge deems the plaintiff to bear 30% fault in the situation, they will lose 30% of their case award and only recover 70% of the total amount claimed from the defendant.
What to Expect From Your Personal Injury Attorney
There are many procedural requirements you must fulfill to succeed with any personal injury claim in Oceanside. While it is technically possible for a plaintiff to handle their case on their own, they are more likely to succeed in maximizing their compensation when they have experienced legal representation on their side. Your Oceanside personal injury attorney can manage all the requirements of your case while you recover from your injury and focus on your personal obligations. They will keep you updated as your case progresses.
When it comes to resolving a personal injury claim in Oceanside, the vast majority of these cases do not go to trial. Instead, most personal injury cases filed end with privately negotiated settlements. As long as both parties are willing to compromise, it is possible for them to reach a mutually agreeable resolution in a fraction of the time that litigation requires. You can rely on your Oceanside personal injury attorney to guide your settlement negotiations until you have reached a set of mutually acceptable terms with the defendant.
If a defendant refuses to settle a claim, or if settlement negotiations fail, the case will need to be resolved in a trial. Perry Personal Injury Lawyers seeks to settle clients' cases as quickly as possible, but we are experienced in litigation and can provide the comprehensive legal counsel you will need to approach the courtroom with confidence. Ultimately, whatever your case may entail, you are not only more likely to succeed with your recovery efforts but also maximize your final compensation when an experienced Oceanside personal injury lawyer is on your side.
Personal Injury Attorneys FAQs
Q: How Much Compensation Can I Recover for a Personal Injury in Oceanside?
A: The intention of the state's personal injury laws is to provide a legal mechanism for victims of others' negligence or illegal misconduct to recover the losses they suffered from these incidents. Under the state's personal injury law, you have the right to claim full repayment of all your economic damages and compensation for your pain and suffering. Your personal injury attorney can estimate the total damages you could potentially secure from a successful case.
Q: How Much Time Is There for Me to File a Personal Injuries Suit?
A: The statute of limitations for personal injury claims in the state is two years, and this time limit begins on the date an injury occurs. If the exact reason for your personal injury cannot be determined immediately, the statute of limitations may begin on the date of discovery of the cause. Once you determine that you have grounds to file a personal injury suit, it is important to start the claim filing process as quickly as possible to ensure you meet the deadline for filing your complaint with the court.
Q: How Long Does It Take to Resolve a Personal Injury Case in Oceanside?
A: The time a personal injury case could take to complete largely depends on the extent of the plaintiff's damages and whether the defendant accepts liability for causing those damages. If the defendant accepts responsibility for their actions, they are likely to agree to a settlement, and the private settlement negotiation process typically takes only a few weeks to complete. Alternatively, if a case cannot be settled, it must be resolved in court, and litigation could take several months.
Q: Is It Necessary to Hire a Personal Injury Attorney?
A: Technically, no, there is no law that requires you to have legal representation to pursue a personal injury claim. However, you are more likely to succeed with your case and more likely to maximize the total compensation you win from the defendant with an experienced attorney representing your claim. Your personal injury attorney can handle your legal issues while you focus on your medical needs, and they could uncover channels of recovery you did not know were available.
Q: How Much Will It Cost Me to Hire a Personal Injury Attorney?
A: It's understandable to be worried about the potential cost of hiring legal counsel when you are already struggling with the economic effects of your injury. However, this is no cause for concern when you choose Perry Personal Injury Lawyers to represent you. Our firm handles all personal injury claims on a contingency fee basis, meaning you only pay our firm after we win compensation for you, and your fee is a percentage of the total case award. There is no cost to you if we are unsuccessful in securing compensation for your damages.
Experienced Oceanside Personal Injury Lawyers
Perry Personal Injury Lawyers has successfully managed cases for many past clients in Oceanside and throughout the surrounding area. We know how challenging the aftermath of any personal injury can be for the victim and their family, and we want to help you recover from your injury as fully as the law allows. Do not wait to secure the legal counsel you need in this difficult situation. Contact us today and schedule your free consultation with an Oceanside personal injury attorney to learn more about the ways our firm can empower your recovery efforts.