Oceanside Spinal Injury Lawyer
It's possible for any injury to leave lasting damage on the victim, and many injuries can cause a host of long-term or even permanent effects. However, the risk of long-term harm is much greater with certain types of injuries than others, and a spinal injury is one of the worst injuries anyone can suffer. An Oceanside spinal injuries lawyer will be an essential asset if anyone has recently inflicted this type of injury on you.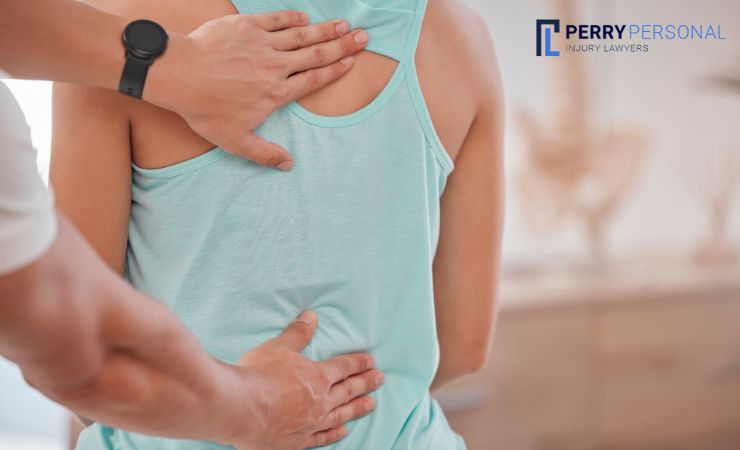 Experienced Legal Counsel for Spinal Injuries in Oceanside, CA
Any personal injury case has the potential to evolve into a very complex legal battle against the party responsible for your damages, but spinal cord injury claims are especially challenging. These cases not only involve the same procedural challenges that you would encounter in other personal injury cases, but they also tend to involve more substantial damages.
Perry Personal Injury Lawyers can provide the comprehensive and compassionate legal counsel you need to navigate a spinal injury case successfully in Oceanside. Whether you are seeking compensation on your own behalf or on behalf of a loved one, we can help you make clearer sense of your recovery options and guide you to the optimal result.
You have a limited time in which to file your personal injury claim, and the sooner you begin working on your case, the more likely you are to succeed. With an experienced Oceanside spinal injury attorney on your side, you will increase your chance of success and increase the likelihood of maximizing the total compensation you obtain for damages. Our goal for every client we represent in California is maximum recovery in the shortest possible time.
Understanding Spinal Injuries
The spinal column is a series of vertebral bones that encase the spinal cord, a cluster of nerves that carry brain signals throughout the body. It's possible for a spinal injury case to pertain to bone fractures in the vertebrae and/or damage to the spinal cord itself, with the latter carrying more serious implications for the victim.
The spinal cord allows the brain to control the functions of the body, from conscious movements like walking and the use of the hands and fingers to unconscious processes. Whenever the spinal cord is damaged in any way, the damage is permanent. Unlike the rest of the body, the spinal cord cannot heal itself. The severity of the resulting effects depends on the location of the injury on the spine and whether the cord is completely severed.
In an incomplete spinal cord injury, the cord remains partially intact. However, this could still result in a loss of sensation and diminished motor control in the areas of the body connected to the spinal cord below the injury site. If the cord is completely severed, the body will be paralyzed below the injury site. If this occurs lower on the spine, the victim may be unable to walk ever again. If it occurs toward the base of the skull, the victim could suffer complete paralysis.
Proving Liability for Your Spinal Injury in Oceanside
It's possible for a spinal injury to happen in many ways. Some of the most common causes of these injuries include:
Motor vehicle accidents. If a driver inflicted your spinal injury in a recent accident, their auto insurance may only compensate a fraction of the total damages you could be entitled to claim. An experienced attorney can help you file your insurance claim and then build a personal injury case around the damages that the at-fault driver's insurance cannot cover.
Workplace accidents. If you suffered a spinal cord injury at work, you may be eligible to file a workers' compensation claim that can assist with your recovery. However, if a specific party directly caused the injury, you have the right to seek compensation from them as well and will need an attorney's help to file your personal injury suit.
Medical malpractice. Thousands of California residents trust their health to doctors, nurses, and other medical professionals, but medical negligence is a leading cause of accidental injuries and deaths in the US each year. If your spinal injury resulted from negligent medical treatment, this could form the basis of a medical malpractice suit.
Establishing Fault
However your spinal injury happened, you will need to establish fault before you can recover any compensation for your damages. This starts with identifying the party or parties responsible for causing the injury and then proving exactly how they caused it.
Most personal injury cases filed in California arise from acts of "negligence," a legal term that defines any failure to act with reasonable care in a given situation. This means the at-fault party held some duty of care that they breached in some way and consequently caused the damages in question. It is also possible for a personal injury to arise from an illegal act, in which case the at-fault party will face criminal prosecution from the state along with a civil suit from the victim.
Your Oceanside spinal injury attorney can help you gather the evidence you may need to prove liability for your injury. Depending on the nature of the accident that caused your injury, you may need various forms of physical and digital evidence, witness testimony, and even input from various professionals who can provide expert witness testimony on your behalf.
Once you have identified the party responsible for your spinal injury and you have proven they are directly responsible for causing it, you can then begin claiming compensation for all the damages caused by the incident in question.
Claiming Compensation for Your Spinal Injury in Oceanside
A personal injury claim's main goal is to hold a defendant accountable for the damages they have caused and to help the plaintiff secure compensation for those damages. After proving fault for your injury, your Oceanside spinal injury attorney will help you uncover the full scope of compensation you are legally allowed to claim from the defendant.
The average personal injury claim in California will yield several forms of compensation, including economic damages, noneconomic damages, and punitive damages if the defendant breaks the law in causing the injury in question. Economic damages are the direct financial losses resulting from a defendant's negligence or misconduct, and these may include:
Medical treatment costs. Any physical injury has the potential to require extensive immediate and ongoing medical care. The defendant who caused your injury is liable for the cost of all medical care you need to fully recover, which can be significant for any spinal injury. Your attorney can help you hold the defendant accountable for immediate and future medical treatment costs associated with your spinal injury.
Lost income. Your injury could leave you unable to work for an extended period of time. You may also be unable to return to your previous job or unable to work at all because of your injury. An Oceanside spinal injury attorney can help you hold the defendant accountable for lost income and your lost future earning capacity if the injury caused permanent damage that limits your ability to be employed and earn income.
Property damage. If the defendant's actions also damaged or destroyed any of your personal property, they are liable for repair and replacement costs. Some such losses may be recoverable through insurance depending on how the accident happened, but anything you cannot claim through insurance can be cited as economic losses in your personal injury suit.
You may be able to discern immediately noticeable economic damages like hospital bills and vehicle repair costs, but an assessment of the full long-term scope of economic harm the defendant caused will be more challenging. Your Oceanside spinal injury attorney can ensure that all claimable economic damages are included in your civil suit.
Calculating Pain and Suffering Compensation in a Spinal Injury Claim
Beyond economic damages, the plaintiff in a spinal injury case has the right to seek financial compensation for the pain and suffering they endured because of the defendant's actions. California law does not cap or limit pain and suffering compensation in most personal injury cases, so it is possible to seek as much as you believe to be appropriate to reflect the severity of the harm the defendant caused.
Your Oceanside spinal injury attorney can assist you in calculating a fair amount of pain and suffering compensation to seek in your case. They will typically take the scope of long-term or permanent harm the defendant caused into consideration, along with loss of earning capacity and diminished quality of life. Spinal cord injuries often result in permanent disabilities, meaning plaintiffs in these cases are likely to secure substantial pain and suffering compensation.
Other Variables That Can Impact Your Case Award
Beyond your economic damages and pain and suffering compensation, it is possible for other factors to influence the outcome of your spinal injury case. For example, if the defendant caused the injury by breaking the law or if their actions exceeded the scope of standard negligence, a judge may award a plaintiff punitive damages to reflect these. This type of compensation is not claimed directly by the plaintiff, and the judge decides how much the defendant must pay.
Conversely, some issues may diminish a plaintiff's recovery from a personal injury, specifically their comparative fault. If an investigation shows that a plaintiff partially caused their own damages, they will lose a percentage of their case award to reflect this. Under California's pure comparative fault rule, there is no threshold of plaintiff liability that bars them from recovering compensation.
Whenever comparative fault comes into play in a personal injury case, each liable party will have a fault percentage assigned. These percentages determine what share of the total damages each party is responsible for causing. If multiple defendants share fault, their respective fault percentages will dictate how much of the plaintiff's damages they must repay. If a plaintiff bears a fault percentage, it will be deducted from their case award as a penalty.
Resolving Your Spinal Cord Injury Claim in Oceanside
The right attorney on your side can help you secure the compensation you legally deserve after another party has inflicted a spinal injury on you or a family member. Once you compile the evidence you need to prove fault and establish the full scope of your claimable damages, you can proceed with filing your claim against the defendant.
The vast majority of personal injury claims filed in California do not go to court and are instead resolved through private settlement. This process enables all parties involved to reach a mutually acceptable conclusion to the case while saving time and money they would otherwise spend in litigation. As long as the defendant accepts liability and the parties are willing to compromise, it's possible to settle a personal injury claim in a relatively short time.
However, if settlement is not an option for any reason, the case will need to go to trial. If you must litigate your spinal injury case, your attorney will prepare you for your courtroom proceedings and help you make a compelling argument before a judge. The judge will make the final decision regarding liability for your damages and the scope of compensation you can recover from the defendant.
Finding Legal Counsel You Can Trust in Oceanside
When you believe you have grounds to file a spinal injury claim in Oceanside, it is crucial that you consult an attorney you can trust as soon as possible. Perry Personal Injury Lawyers can provide the legal counsel you need in this situation without adding to your financial concerns. We take personal injury clients on a contingency fee basis, so there are no upfront or ongoing attorneys' fees when our firm handles your case.
At the end of your case, we will take a percentage of the final case award as our fee, but only if we win. If, for any reason, our team cannot obtain compensation on your behalf, we take no fee at all. This ensures you will never pay more for legal representation than you win in compensation for your damages.
You have a limited time in which to pursue compensation for your spinal injury, and the sooner you connect with an attorney you can trust, the more likely you are to succeed with your case. If you're ready to learn what an Oceanside spinal injury attorney can do for you, contact us today to schedule a free consultation with our team.